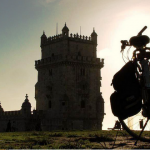 Lisbon is a great multicultural city, with a mild climate, thrilling culture and very close to marvelous beaches, mountains and natural parks.
As written in LonelyPlanet: " Spread across steep hillsides that overlook the Rio Tejo, Lisbon offers all the delights you'd expect of Portugal's star attraction, yet with half the fuss of other European capitals. Gothic cathedrals, majestic monasteries and quaint museums are all part of the colourful cityscape, but the real delights of discovery lie in wandering the narrow lanes of Lisbon's lovely backstreets.
As bright yellow trams wind their way through curvy tree-lined streets, Lisboêtas stroll through the old quarters, much as they've done for centuries. Village-life gossip in old Alfama is exchanged at the public baths or over fresh bread and wine at tiny patio restaurants as fadistas (proponents of fado, Portugal's traditional melancholic singing) perform in the background."
Useful websites with plenty of information about Lisbon:
http://www.lonelyplanet.com/portugal/lisbon
If you want to enjoy the country after or before the conference, you will find that Portugal is one of the most beautiful countries in the world.